powder snow heaven for skiers and snowboarders
FREE ski lift passes for all kids 12 years old or younger
– Quick links for Furano winter information –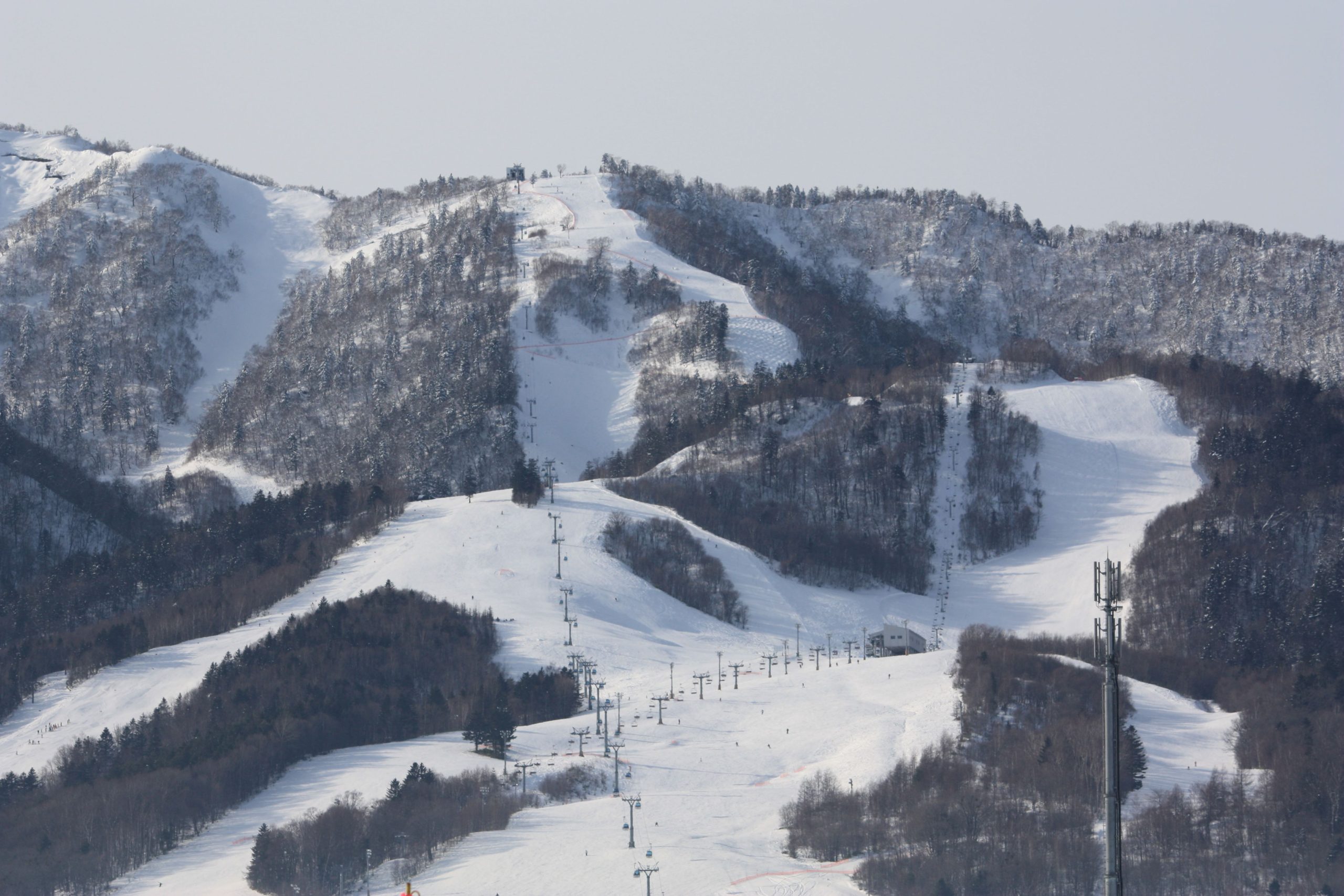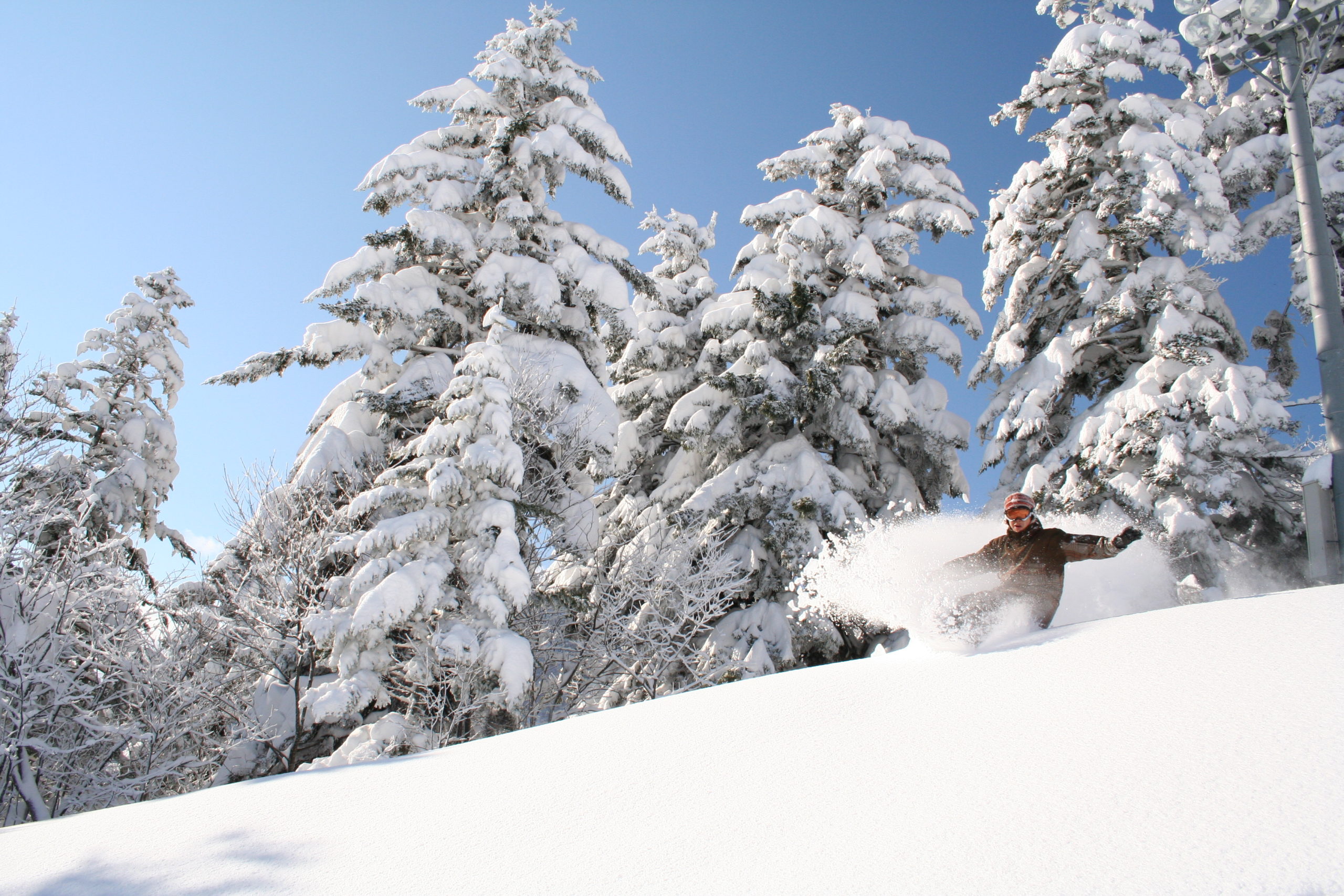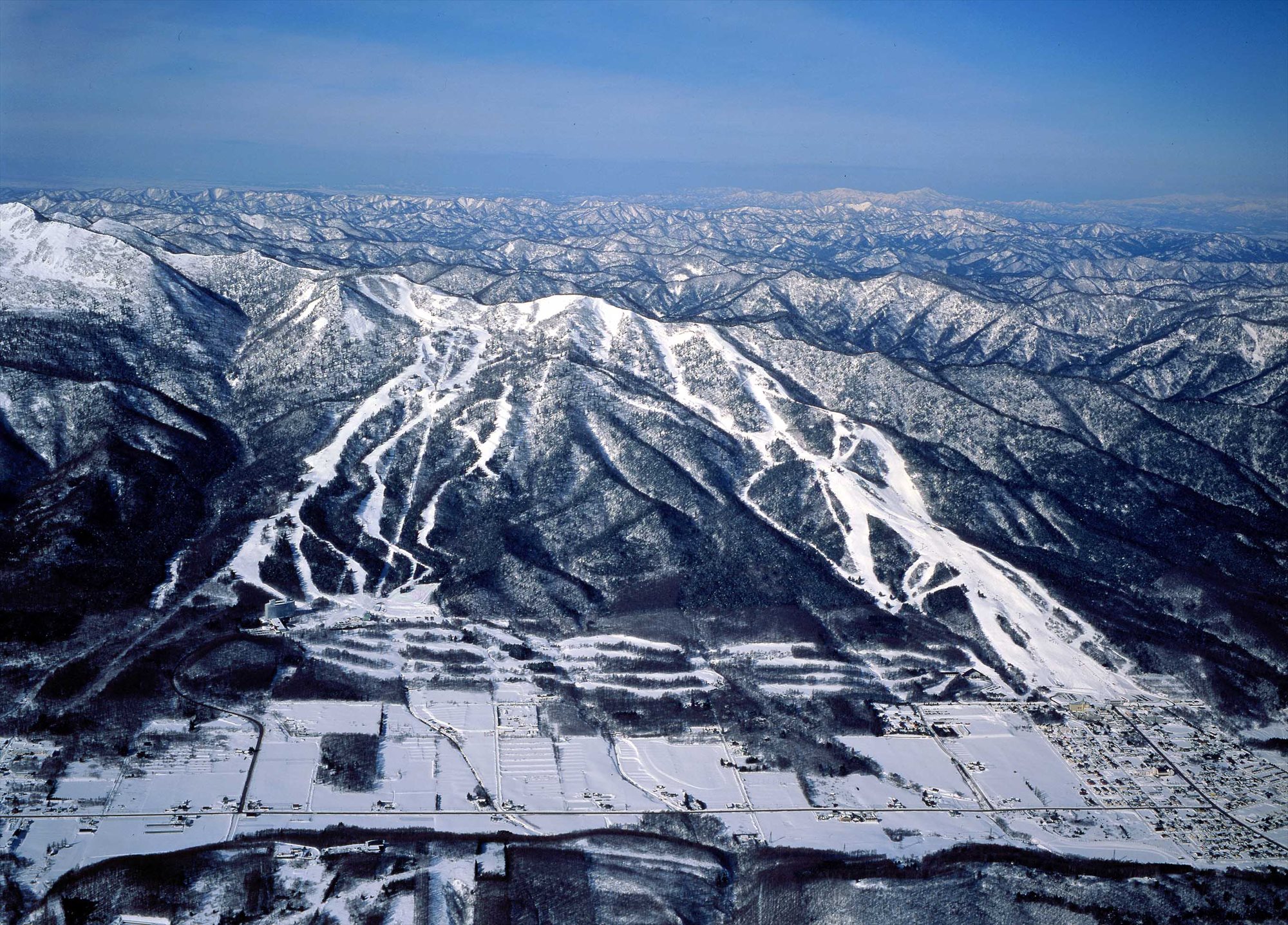 "Furano is one of Japan's most famous ski resorts, although relatively little is known about it outside of Japan. Situated in the middle of Hokkaido, Japan's northernmost island, Furano benefits from Siberian storm systems that pass over the Sea of Japan and then dump the lightest and driest snow in all of Hokkaido – and 7 meters of it each season. After a big snow fall there is often untracked powder for days. Furano Ski Area Map
The Furano Ski area is made up two zones, the Kitanomine zone (Mid. Dec – Late Mar) and the Furano zone (Late Nov – Early May). Both areas have a variety of accommodation options and the town of Furano is only a 3 min shuttle from the Kitanomine zone and a 6 min shuttle away from the Furano zone, and is home to a wide array of restaurants and bars and all the services you would expect to find in a town. Both of these zones can be accessed on the one pass and are serviced by 11 lifts. Furano has an abundance of varied terrain for every level of skier and snowboarder and a vertical drop of over 950 meters making it one of the steepest mountains in Hokkaido.
Bordered by Hokkaido's stunning Daisetsu-zan National Park, Furano is truly a world-class resort and it is a testament to the mountain and the quality of the snow that it has hosted the FIS Downhill World Cup 10 times and regularly hosts National and International ski and snowboard events including the 2005/2006 Snowboard World Cup. Many of Japan's top skiers choose to base themselves here due to the great conditions and exhilarating mountain."
– Snow Fall –
Average annual snow fall : 7m
Average annual snow depth : 3m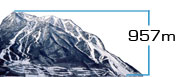 101 person cable car (fastest speed in Japan) / 6 person Gondola / High speed quads (2)
2 person chair lift (5) / Single chair lift (1)
Advanced Skiers and Boarders
For the advanced skier or boarder there is a huge variety terrain that will seriously challenge your ability. 20% of the mountain is rated advanced and there are many steep and deep runs to savor. Better yet if you are a powder fiend there is nothing better than waking up after one of the many huge dumps and casually strolling to the gondola for first lifts knowing that only a couple of hard-core locals will be waiting their ready to charge down the hill.
Intermediate Skiers and Boarders
Furano's courses are long, wide and fast and perfect for intermediate skiers and boarders. With 40% of the mountain rated intermediate you will continually find runs to challenge and excite you. Choose from a variety of ways to get down the hill from easy cruising groomers to 4.8km long, roller filled runs all the way to the base. Furano also has a downhill course that the World Cup has been held on regularly if you are up for a challenge. Or just have fun and relax with family and friends and enjoy the mountain together.
Beginner Skiers and Boarders
The base areas of both sides of the mountain have wide gentle courses serviced by a detachable quad and 2-person lifts. There is also a beginner's area at the top of the ropeway (cable car) so that beginner skiers and snowboarders don't have to be confined to the base areas. 40% of the mountain is rated beginner so some of the runs are skiable for those whishing to push themselves. Furano has two ski schools located in both the Furano and Kitanomine zones. English speaking instructors will be available and all are certified.
Open until 8pm on both mountains, night skiing is a spectacular way to spend an evening. Whilst cruising down the well-lit groomers enjoy the amazing views of the area coming to life at night. On both sides you can ski almost to the door of some bars. On the Kitanomine pension side of the hill, you can ski to the door of the Ice Dome and bars and order a beer or a hot baked potato without even stepping out of your bindings. With an abundance of restaurants, bars, activities and events you will not be short of things to do once you have put the ski gear away for the evening.
Backcountry Skiing and Snowboarding

Whiteroom Private Guiding
Whiteroom specialises in ski and snowboard guiding throughout Hokkaido and Tohoku, Japan. Whether it be a one-off deep powder experience in the backcountry of Kiroro or a multi-day adventure chasing snow storms around Hokkaido and Tohoku, our travel and guiding team can help make it a reality.
Resort Powder & Backcountry
Showing clients the best inbounds and slack country in and around either Niseko & Otaru or the Central Hokkaido Region. We pick customers up from their accommodation and in our comfy 4WD vans and take them to the resort with the best conditions or if they have a specific ski area in mind we'll show them around the whole resort orienting them and showing them all the best powder stashes
Sample Day: Tomamu or Kamui Day
Whiteroom Private Lessons
Make the most of your time in the Central Hokkaido area and have the best experience on the mountain by improving your ability with a Whiteroom private ski or snowboard lesson.
A privately instructed lesson lets you go one-on-one or in small private groups of up to 4 per instructor.
We tailor the day to either discover a new sport, improve your skills and technique, gain confidence on piste or in powder & explore more of the mountain to make the most of your time with us. Flexible start time, accommodation pick up & drop off.
Furano has a well-placed lift system that services a wide expanse of terrain. In the Kitanomine zone, you can access the peak via a 3km 6-person gondola. A 1km High-speed detachable quad services a long cruiser for beginners and also some short intermediate runs. This lift is also the night skiing lift in the Kitanomine zone. There are also 2 single chairs which service the downhill racecourses. Bombing down the race course first thing in the morning after a fresh snowfall or after it has been freshly groomed is certainly something worth telling your friends about if you ever have the chance to ski them.
The connecting 2-person lift takes you 925m across the hill to the other mountain. It is from this lift that you access the Furano Mountain. (You access the Kitanomine Mountain by skiing down from the Furano side).Furano's main lift is the 2.3km Cable Car (called the Ropeway). This is the fastest lift of its kind in Japan ferrying 101 skiers and boarders up the hill at 10m per second. From the top of this lift there are some great choices for any level of skier and boarder. To reach the peak, there is a single seat 571m lift that takes you to the top and accesses the highest point in the Furano ski area. Any skier will revel in the deep powder that is to be found on these courses after a big dump of snow.
The Furano Zone also provides other lift options including two beginner areas, one at the base and one accessible from the top of the Ropeway. A high-speed detachable quad also allows skiers a second option to get a long way up the hill without having to step out of their bindings to ride the Ropeway.
All courses are spectacular with beautiful views of the Furano valley and the smoking volcano across the valley. In January and February we often experience beautiful mornings with diamond dust. This is an effect caused by the coldness of the air combined with clear skies where the air seems to be filled with spinning diamonds ? a truly unique experience.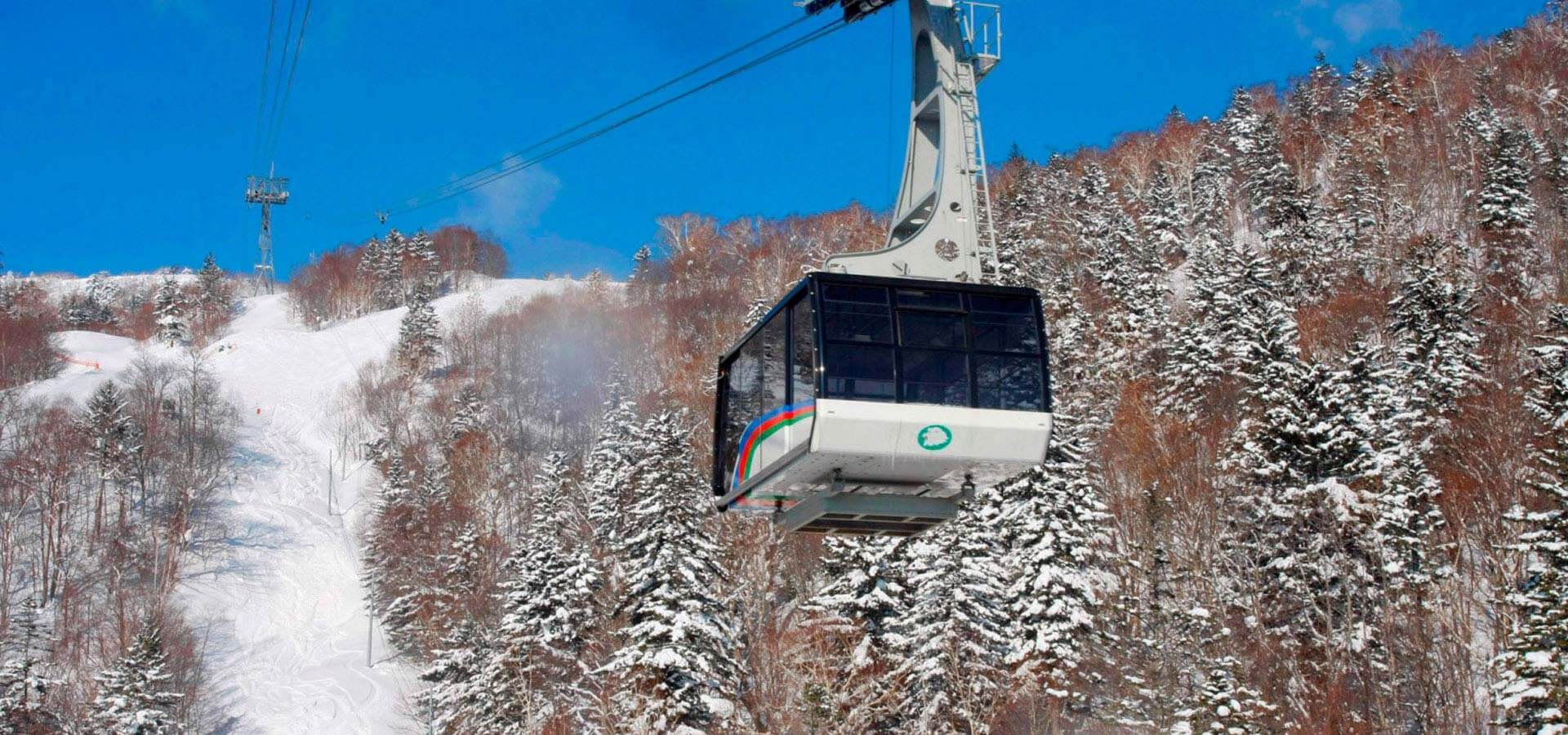 Grooming
The grooming on the whole in Japan is of a very high standard and Furano's groomers hold their own against anywhere in the world. Each night courses up to 4.8km long are groomed to perfection, with a wide variety of courses available for all abilities. The snow quality in Furano enables the groomers to consistently produce corduroy like perfection with the snow remaining soft and dry.
On mountain dining
There are a number of restaurants and cafeterias open on the mountain during the ski season. At the base of both the Kitanomine Gondola and the Furano Ropeway (cable car), there are decent restaurants where you can get a wide variety of good, hearty and healthy meals. At the top of the ropeway in the Furano Zone there is also a small European style café ? restaurant with a fireplace to sit by. There are a variety of choices for all diets and tastes if you look for it and all the food is reasonably priced. There is also food, drinks and beers available at vending machines right across the hill at different points. All drinks are also very reasonably priced. At the base of the Kitanomine gondola you can find the Snow Dome Festival site. This is a great area to grab a bite to eat after skiing, have a relaxing drink, hot wine, beer or hot chocolate, and unwind in a small country festival atmosphere.
International Ski Schools in Furano resort
Furano Winter Village (Kan-Kan Mura) late Dec - early Mar
[ Opening Hours ]
16:00 – 19:30 last entrance
[ Entrance Fee ]
300yen/person
[ What's in the village ]
Snow activities / Ice bar / Snow tubing / Snow fantasy land
Weather
Whilst Furano receives around 9m of some of the lightest and driest snow of anywhere in the world, it is also blessed with an amazing amount of blue sky days, more than almost any other ski area in Hokkaido. With a snow base consistently topping 3.3m each year, it is almost magical that so many mornings can provide perfect skiing and boarding conditions with such regularity. Waking up to fresh snow and a blue sky will make sure you are out of bed and on the first lifts each morning.
The temperatures in Furano are slightly colder that that of some of the costal ski resorts, but that is why we consistently get such amazingly good snow. The snow that falls is excellent and even when 2 or 3 days don't deliver any white gold, the snow is still fluffy and easy to ski and board on.
Kids Full Service Day Care
Kojima Academy Kids Park gives a great way to spend a day for your young kids having experience the indoor and outdoor play areas at the adventure center with nutritious snacks, meals, and all the fun and excitement a kid can handle. Pick up service is available at the hotels and ski areas in Furano. For more details, please send an e-mail.
Snow Activities
Furano resort has some outdoor snow activity area, Family Snowland, where you can enjoy Snow Rafting, Snowmobiling, Snow Banana Boat, Cross Country Skiing, Snow Shoeing, Air Bounce, Sledding, and even Hot Air Balloon Ride! Have all snow activities in Furano resort.
Featured accommodations in Furano
make your travel plan with us
Properties are available for your investment in Furano