surrounded by powder ski mountains
Amazing backcountry mountains are around Furano resort, and there are some tours available with or without the professional local guides. Mt. "ASAHI-DAKE", "KAMUI Ski Links", "Kurodake", "SAHORO Resort", and "TOKACHI-DAKE Mountain" are just within around 1.5 hours away by some day tours from Furano. Also, another big ski resort, "TOMAMU Ski Resort" has some off-piste runsa, and the day trip tour is available. Stay in Furano and visit all around the mountains of central Hokkaido!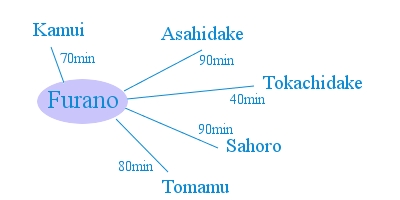 Featured backcountry tour companies
– Backcountry tours available
Whiteroom Private Guiding
Whiteroom specialises in ski and snowboard guiding throughout Hokkaido and Tohoku, Japan. Whether it be a one-off deep powder experience in the backcountry of Kiroro or a multi-day adventure chasing snow storms around Hokkaido and Tohoku, our travel and guiding team can help make it a reality.
Resort Powder & Backcountry
Showing clients the best inbounds and slack country in and around either Niseko & Otaru or the Central Hokkaido Region. We pick customers up from their accommodation and in our comfy 4WD vans and take them to the resort with the best conditions or if they have a specific ski area in mind we'll show them around the whole resort orienting them and showing them all the best powder stashes
Sample Day: Tomamu or Kamui Day
Intro to Backcountry Touring
Teaching clients the basics of touring technique and equipment to get them out into the backcountry safely. Our guides are experienced and passionate about backcountry touring and passionate about sharing the experience with our customers
Sample Day: Furano, Kamui or Tomamu Backcountry
Lift Assisted Backcountry
For clients wanting the goods but don't want to work too hard for it, then this is the product for them. All the resorts in the Niseko, Otaru & Central Hokkaido areas have some great backcountry that is easily accessed by the lift system. We can also go for short hikes if they are up for it. There are even a few road drops we can take advantage of for that special experience!
Sample Day: Furano or Asahidake backcountry
Backcountry Touring
This product allows customers to choose from a variety of terrain in the Niseko, Otaru and Central Hokkaido regions depending on the weather and their fitness. With snow all the way to sea level in areas we have the unique ability to tour almost anywhere and surrounding these areas are some of the best backcountry and most easily accessible areas in all of Hokkaido
Sample Day:, Tokachidake
Whiteroom Private Lessons
Make the most of your time in the Central Hokkaido area and have the best experience on the mountain by improving your ability with a Whiteroom private ski or snowboard lesson.
A privately instructed lesson lets you go one-on-one or in small private groups of up to 4 per instructor.
We tailor the day to either discover a new sport, improve your skills and technique, gain confidence on piste or in powder & explore more of the mountain to make the most of your time with us. Flexible start time, accommodation pick up & drop off.
LEARN AND EXPLORE FURANO, TOMAMU, SAHORO AND KAMUI
PRICING:
From ¥65,000 per full day
From ¥35,000 per half day
PRICING:
(max) 4 to 1 Client to instructor ratio Private groups only ski/snowboard
PRODUCTS:
Full Day Private Lessons in Furano ski area
Full Day Travel Private Lessons in the Central Hokkaido area Multi Resort Private Lessons (3 resorts in 3 Days)
Half Day 4 Hour AM Private Lessons (Furano Only)
Half Day 3 Hour PM Private Lessons (Furano Only
powder professionals in Furano
Day trip tours to resorts and mountains around
Destination
Depart
& Arrive
Scheduled day trip tour fee
Private day trip tour fee
TOMAMU
Hoshino Resort
Wed

8:00
> 9:20

16:00
> 17:30
[ Round trip transfer only ]
All age : 6,500yen/pax

* Required 4 pax as min.
Same kind of rates as the scheduled tours
in case of 4 pax or more
KamuiKamui
Ski Links
Tue
& Thu

8:00
> 9:15

16:00
> 17:30
[ Round trip transfer only ]
All age : 5,500yen/pax

* Required 4 pax as min.
Same kind of rates as the scheduled tours
in case of 4 pax or more
Operation period : January & February
* These are unguided tours.
* Booking accepted by 5PM by the day before the tour.
Some shops in Furano provide the services of the waxing on ski and snowboard. The price of waxing is around 4,000yen/board, and it saves a lot of time in your holiday!



Featured accommodations in Furano
make your travel plan with us
Properties are available for your investment in Furano